Choirmaster
Born in Lower Austria, Heinz Ferlesch has successfully established himself as a conductor of his baroque orchestra Barucco as well as a longtime choirmaster of Wiener Singakademie.
He studied at the Anton Bruckner Conservatory Linz and at the University of Music and Performing Arts with Herwig Reiter and Johannes Prinz. At the age of 27 Heinz Ferlesch has been appointed Artistic Director of Wiener Singakademie by the Vienna Konzerthaus, therefore he is the youngest Artistic Director in the choir´s history.
Within his career he has worked with conductors as Georges Prêtre, Valery Gergiev, Gustavo Dudamel, Sir Simon Rattle, Franz Welser-Möst, Kent Nagano, Fabio Luisi, Adam Fischer, Bertrand de Billy, Ton Kopmann, Helmuth Rilling und Simone Young.
Engagements of the Wiener Singakademie took him – besides periodic performances at Vienna Konzerthaus – to London, Zurich, Budapest, Venedig and New York. Close collaboration with orchestras like Vienna Philharmonic Orchestra, Vienna Symphony Orchestra, Vienna Radio Symphony Orchestra and Zurich Opera House Orchestra have shaped the musical development of Wiener Singakademie and its Artistic Director.
In 2004, Heinz Ferlesch founded his orchestra Barucco and since then he has increased his appearances as an orchestra conductor. Barucco, a young ensemble consisting of international baroque specialists, focuses mainly on the music of 18th century. Since its foundation the orchestra has been a regular guest at Vienna Konzerthaus and it is the "orchestra in residence" of the festival "Vokalwoche Melk".
Performing with young Austrian soloists and the Wiener Singakademie is one of the main concerns of the orchestra. For 2009 Heinz Ferlesch and his orchestra have been invited to perform at the International Baroque Festival at the monastery of Melk. Various CD recordings and broadcasts show the wide range of the orchestra´s repertoire: in 2004 the orchestra has recorded music by Antonio Vivaldi for the Austrian broadcasting station ORF, in 2006 a live recording of Handel´s "Judas Maccabaeus" has been released by the ORF Edition of Ancient Music. In 2009 a recording of Handel´s oratorio "Alexander´s Feast" has been published.
Heinz Ferlesch also works extensively with the choir Ad Libitum, which he has founded in 1993. This mixed choir is focusing on A-capella music and has been invited to Festspielhaus St. Pölten, to the Brucknerhaus Linz and various festivals, e.g. Europäischer Kultursommer Aspach, Passauer Konzertwinter and Kultursommer St. Paul. Concert tours took the choir to England, Italy, Greece and Germany. Conductor Heinz Ferlesch and his ensembles have been awarded various national and international prizes.
In 2007 he was awarded the highly respected Ferdinand-Grossmann prize. In 2009 Heinz Ferlesch was awarded in the context of his activities for the choir scene Lower Austria with the Erwin Ortner price to the promotion of the choir music.
Heinz Ferlesch is a guest lecturer of Berkshire Choral Festival and also member of the jury of several national and international choir competitions. 2010 Heinz Ferlesch was invited for a first cooperation with the Choer de Radio France to conduct Antonin Dvořáks "Stabat Mater" in Paris. Since 2002 he is teaching at the University of Music and Performing Arts Vienna.
2013 Heinz Ferlesch is the culture winner of the province of Lower Austria in the category of music and he got the Golden Badge of Honour of the Municipality of St. Valentin.
more information: www.heinzferlesch.com
Rehearsal Pianists
American pianist Lisa Gonnella is an active coach and performer in Vienna, Austria where she completed a postgraduate certificate program in Opera Coaching at the University for Music and Performing Arts of Vienna. Before moving to Austria, Ms. Gonnella received a Master of Music in Accompanying and Chamber Music at the Eastman School of Music in Rochester, NY and also holds Bachelor of Arts degrees in Piano and French Language and Literature from the University of Puget Sound in Tacoma, WA. In 2011, she participated in SongFest at Pepperdine's Professional Program where she performed in masterclasses given by Graham Johnson, Roger Vignoles, Martin Katz, Jake Heggie, and Libby Larsen, among others. In 2014, she was a participant in the Peretti Repetiteur's Masterclass series of the Georg Solti Accademia in Venice, Italy. Ms. Gonnella has previously held musical staff positions with the University of Miami School of Music at Salzburg, Bay Area Summer Opera Theater Institute, Spokane Opera, Gonzaga University, and Interlochen Center for the Arts. She has performed in vocal and instrumental concerts in the United States, Europe, and China.
Hungarian-born István Mátyás studied piano and organ at the University of Music an Performing Arts in Vienna with Roland Keller, Paul Gulda, Karen De Pastel, Dr. Rudolf Scholz and Martin Haselböck. His world premiere recording of the organ works by the Austrian exile composer Hans Gal was appreciated as "the most important discographic act of the year" 2007 by the musical press.
Since he won the Grand Prize and four special prizes at the Mikael Tariverdiev Organ Competition in Kaliningrad, Russia, in 2005, he has been invited zo give concerts throughout Europe. His most memorable revitals so far have been the ones at the Vienna Konzerthaus and Musikverein, at the Budapest Palace of Arts, at the Dome Church of Tallinn, at the International House of Music in Moscow and at the Basilica St. Gereon in Cologne. He has performed several organ concertos with the Orchestra of "Wiener Akademie" on period instruments, with the Budapest Strings, the Zalaegerszeg Symphony Orchestra (Hungary) and the Chamber Orchestra of the Novosibirsk Philharmony.
István Mátyás was head of studies for several years at the Reinsberg Opera Plays in Lower Austria and he regularly works together with the opera house of Theater an der Wien. After six years of working as a repetiteur at the University of Arts in Graz he now holds the position of a repetiteur at the University of Music an Performing Arts Vienna.
Assistants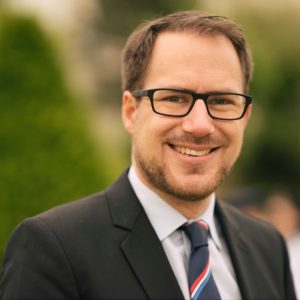 Born in Waidhofen an der Ybbs (Lower Austria) in 1983, Oliver Stech's musical education started with piano and singing at the Schools of Music in Amstetten and Waidhofen/Ybbs (both in Lower Austria).
From 2003 onwards he studied at the Universität für Musik und Darstellende Kunst Wien (Vienna) to become a teacher of music, majoring in piano and minoring in French. From 2006 onwards he also studied vocal pedagogy with Judith Kopecky, as well as choir and vocal ensemble direction under Johannes Hiemetsberger and Alois Glaßner. In addition to solo performances, he sings with the Chorus sine nomine and the extra chorus of the Wiener Volksoper, and has taken part in festivals such as Oper Klosterneuburg (Lower Austria), Klangbogen Wien (Vienna), and the Baden-Baden (Germany) summer festival. In doing so, he has worked with conductors including Placido Domingo, Bertrand de Billy, Kristian Järvi, Philipp Jordan, H.K. Gruber, Alfred Eschwé and Martin Haselböck. Concert tours and performances have taken him to Germany, Great Britain, Italy, France, Spain and Croatia, as well as to many Austrian cities. Together with the World Youth Choir he toured South Africa, Namibia, France, Belgium and The Netherlands.
In August 2008, Oliver Stech assumed the overall responsibility over the performance of Henry Purcell's baroque opera "Dido and Aeneas" at the palaces of Ulmerfeld and St. Peter/Au (both in Lower Austria). He conducted the women's chamber choir, chorus discantus, and the vocal ensemble uni-sono, which won silver medals at the International Choir Competition at Bad Ischl [Upper Austria] and the 2009 "Austria Cantat" competition. In addition, Oliver Stech is the deputy choir leader of the Cantores Dei Allhartsberg and of the Coro Siamo. Since August 2009, he has been the musical director of the Youth Choral Week of the Vokalakademie Niederösterreich (Lower Austria). Since September 2009, he has been the assistant to the artistic director of the Wiener Singakademie (Vienna).
Luiz de Godoy was born in 1988 in Mogi das Cruzes, Brazil. He found his path toward music as a choirboy in his hometown, under the conduction of Dulce Primo. After ten years of instruction in Piano under Prof. Renato Figueiredo at the Music School of the Opera House of São Paulo, he graduated from his first musical degree, with honors, in piano solo from the University of São Paulo. There, he also participated in courses in orchestral conducting, solo singing and organ. Luiz de Godoy holds a Master Degree (concert piano) from the School of Applied Arts in Castelo Branco (Portugal).
De Godoy made forays into the professional world very early. As early as fourteen, he served as a répétiteur in projects for the São Paulo opera house, among others. As a stand-in at the age of 17, he went on stage in opera productions like Mozart's Schauspieldirektor, Boïeldieus La Dame Blanche and Kurt Weill's Die Sieben Todsünden.
The young musician has taken part in several master classes in Brazil, Germany, France and the USA. In 2009, he was chosen among students from all over the world as recipient of a scholarship from the Department of State (USA) to take part in the "Fusion Arts Exchange Programm on music Composition and Performance" a UNESCO music programm leading him to study and perform in Boston, Tanglewood, New York and Washington DC.
From 2010 to 2012, he was artistic director of the opera studio of the summer festival "Música nas Montanhas" (Poços de Caldas, Brazil), where he conducted Puccini's Gianni Schicchi, among other works. At his first time in Austria, in 2010, de Godoy conducted a workshop on Brazilian choral music at the University of Vienna, from which the "Coro Novo Mundo" emerged, for which he still remains artistic director today.
During the academic year 2012-2013, he further studied solo piano, choral and orchestral conducting at the Cologne Hochschule für Musik und Tanz. As an orchestral conductor, de Godoy is active in both Austria and Brazil and continually seeks to further develop himself in master classes with personalities such as Marin Alsop, Sian Edwards, Giancarlo Guerrero and Eiji Oue.
Since 2013, Luiz de Godoy studies at the Hochscule für Musik und darstellende Kunst in Vienna under Prof. Pironkov (Orchestral conducting), Ingrun Fußenegger and Erwin Ortner (Choral conducting). Since then he has being working as both a répétiteur and singer in the Wiener Singakademie, where he has already collaborated with conductors such as Gustavo Dudamel, Sir Simon Rattle, Valery Gergiev and Simone Young.
He is assistant to the artistic director in the women's chamber choir Cantilena and the children's choir Gumpoldskirchner Spatzen, who de Godoy conducted and accompanied on several music halls such as the Peking Opera.
Since 2015, he is assistant to the artistic director of the Wiener Singakademie and since 2016 he is the choir master of the Mozart choir of the Vienna Boys' Choir.